NASCAR and Supermodified racing books

Featuring CAMRA Series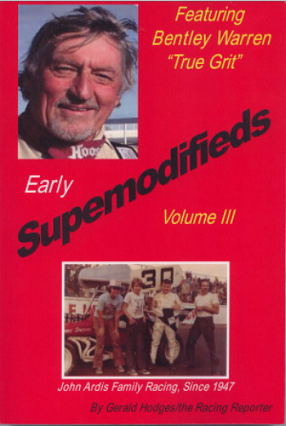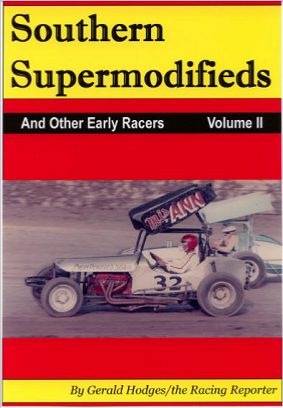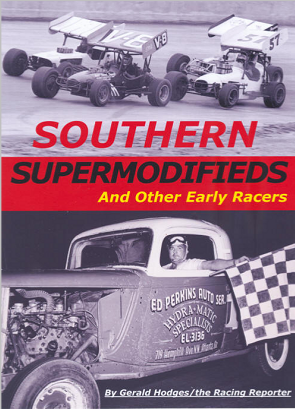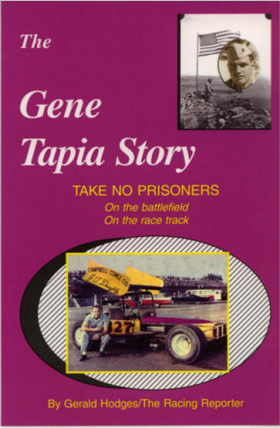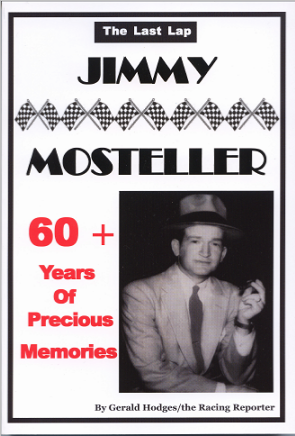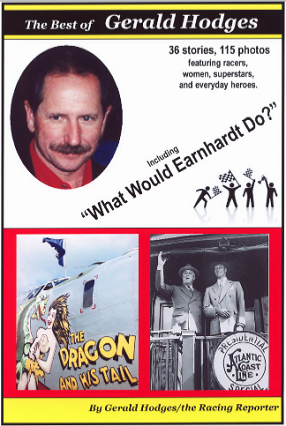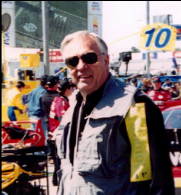 Gerald Hodges/
The Racing Reporter

Syndicated Newspaper
Columnist,
Photographer,
and Author
of eight books.

Early Supermodifieds
Vol. V

Early Supermodifieds
Vol. IV

Early Supermodifieds
Vol. III

Southern Supermodifieds
Vol. II

Southern Supermodifieds
Vol. I

The Gene Tapia Story
"King of the Supermodifieds"

Jimmy Mosteller
"The Last Lap
60+ Years of Memories"

Best of Gerald Hodges
"What Would Earnhardt Do?"

Gerald Hodges first became associated with supermodifieds
in 1967 as a car owner.
His No. 10-4 was driven by "Foots" Kimmons of Pensacola, Florida.
The team raced at tracks along the Gulf Coast.
After raising a family Hodges got back into racing; first as track photographer/PR at Mobile International Speedway in Mobile, AL, and later as a racing columnist/
correspondent for several daily newspapers. He started covering NASCAR in 1994 and traveled with NASCAR
to Japan in 1996, '97, and '98.
In addition to a syndicated newspaper column, he has
taught Photojournalism,
Creative Writing, and
Photography at the Univ.
of South Alabama.
He lives with his wife and a cat named, Trixie, in Daphne, AL.

Volume III
274 pages 197 pages
$30

Volume II

304 pages 207 photos
$30

Volume 1
320 page 309 photos
$30

TO ORDER
Send a check or money order for the price of each book plus a $3 shipping charge to:
Gerald Hodges Agency, 106 Vermell Circle, Daphne, AL 36526.
Books may also be ordered online at:
www.amazon.com
www.coastal181.com
www.sprintcarhof.com
You may contact us at: 251-626-4086, or e-mail: hodges@race500.com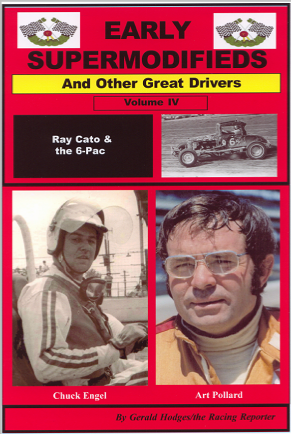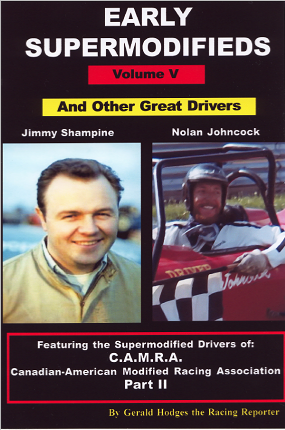 Volume V

290 pages with186 photos

$30


Volume IV

274 pages with 148 photos

$30

Driver Chapters include:

Jimmy Shampine, I.S.M.A., Boyd Arnold,Baldy Baker, Baldy
Baker Jr.,
Rollie Beale, George Fosco,
Dick
Gaines, Jim Harkness,
Hooker Hood, Nolan Johncock,
Hastings
(Michigan) Motor
Speedway, Harold Leep,
Dean
Mast, Ralph
Monhay
and

Canadian American Modified
Racing Association (CAMRA
-Part Two
),
Gary Patterson, Jim Roepke,
Sammy
Sessions,
Smokey
Snellbaker, Ronnie Wallace,
Chet Wilson, Jay Woodside,
Index

2013

Volume IV and Volume V features the C.A.M.R.A. Series
(Canadian American Modified Racing Association).

Driver Chapters:
Featuring: Art Pollard, and C.A.M.R.A.-Part One.
Norm Ellefson, Ray Cato, Chuck Engel, Bob Gregg,
"Flying" Frank Lies, Jack
Lindhout, Jerry & Jim
Malloy, Al Pombo, Dave Strickland, Jack Doering,
Roz Howard, Art Malone,
Hal Minyard, History of Midwestern
Supermodifieds, Ron Verash
Index
2013

Featured driver is the legendary Bentley Warren.
Also featured is the Ardis Family Racing, which has been in existence since 1947.
Bobby Allen, Ardis Family Racing, Henry "Hank" Arnold, Art Bennett, Gene "Tubby" Black, Elmer Corcoran, Fred Furlow, Ray Lee Goodwin, Lee Roy Halfen, Bill Hite, Armond Holley, Hank Jacoby, Rat Lane, John McLaren, Orange County Fair Speedway, NY, Bob Osiecki & Mad Dog IV, Norm Rust, Ollie Silva, The Jailed $1,000 Dollar Bill, Index.
2012

About one half of this book is focused on early southern supermodified racing, with the balance on drivers throughout the country
Eddie McDonald Sr., Chuck Amati, Fats Harvison, Jan Opperman, Donnie Bean, Buddy Bielarski, Charlie Mincey, The Yellow 19, Foots Kimmons, Bobby Ward, Johnny Benson Sr., The Swindell Family, Mobile International Speedway, Al. Five Flags Speedway, Fl., Mississippi Gulf Coast Tracks, Whynot Speedway, MS, Jimmy Burt and Lamey Speedway, Ms., Terry Broadus, Tommy Cannonball Noblin, Saga of the 2-T Car, Victor Oliver Geisen, John C. Dill, Old Time Chicken Farmer, Hot Rod Lincoln, Rex White, Raymond Parks, Smokey Yunick, Index
2011

This is a hero's journey.

Gene
was working as a civilian on Dutch Harbor, Alaska when the Japanese attacked
, and was s
hot in the butt
.

Forced to return to the States,
he
learned of the theft of his one-hour-old son from a Memphis Tennessee Hospital by the famed baby-merchant, Georgia Tann. Attempting to locate his son would be a consuming task for the next forty years.
Gene enlisted in the Marines and became a Marine Raider with the Third Marine Division.
His first battles were on Guadalcanal. He hit the beach on Guam the very first day.

He spent thirty five days on "Bloody" Iwo Jima.

After returning to the States after the War, Gene was a basket case.
His salvation came in automobile racin
g,
in early 1947, and from then on, racing was his calling.
Gene was inducted into the Alabama Motorsports Hall of Fame in 1999.

2002

This is the first of the Early Supermodified Books, and is basically a reference bible of early southern racers.
It features practically every early driver that raced supers from Memphis to the Gulf Coast. In addition to the early local drivers, it also includes drivers from throughout the country that raced on the southern tracks.
Index contains over
550 driver and track names
A large book, 7X10 inches in size
2008


Jimmie Mosteller set the standard for all other racing announcers in the state of Georgia.
"His perspective on racing goes back farther than anyone else I know. His historical knowledge of drivers and racers is better than any set of racing books you could buy," Ed Clark Pres. of Atlanta Motor Speedway.
Mosteller met and soicalized with the rich and famous and the down and out, but he never met a stranger, and treated everyone the way he would want them to treat him. His love for racing and life is reflected in this book, including his accounts of North Georgia Moonshiners. He is a member of the Georgia Automobile Racing Hall of Fame.
2009

List of Chapters
: What Would Earnhardt Do?, Bud Moore, Janet Guthrie, Sam McQuagg, Buck Baker, "Fireball" Roberts, Christmas With The Arkansas Traveler, The Rebel, My Hero, The Lynchburg Flash, David Pearson, "Tiger" Tom Pistone, Curtis Turner, A Woman Named Lou, Handsome Harry, NASCAR's Golden Boy, Lee Roy Yarbrough, Other Racing Heroes, Big Al and Large Marge, Sinning and Grinning, The Ducks, The Good Old Days, A Room at the Top, Las Vegas, NASCAR and More, Mashed Potatoes, Walking Around Daytona, Old Time Chicken Fa
rmer, Hank Williams Drifting Cowboys, The Coffee Drinkers, Trying to Get to Atlanta, Mr. Roosevelt is Going Home, Last Voyage of USS Drum, Dorothy and the Nine-O-Nine.

2012

NOTE: All books except Volume I are 6X9 inches, paperback